As pet owners, we all want the best for our furry companions. When our pets are diagnosed with kidney disease, it can be a stressful and difficult time.
Thankfully, there are treatments available such as Epakitin that can help manage the disease and alleviate symptoms. However, like any medication, there may be potential side effects to watch out for.
It's important for pet owners to educate themselves on these potential side effects in order to make informed decisions about their pet's care.
In this blog post, we will explore the common side effects of Epakitin and what you need to know as a pet owner about this medication.
1. Understanding Epakitin: What is it and How does it work?
Epakitin is a chitosan-based phosphate binder that is commonly used in the treatment of pets in the early stages of kidney failure.
This supplement is made up of milled calcium carbonate, which binds to phosphorus and lowers phosphate levels in the body. Epakitin has been shown to be effective in lowering phosphate levels and improving kidney function in pets suffering from chronic kidney disease.
It is generally considered safe with no known side effects, although mild side effects like lethargy and lack of appetite have been reported. Epakitin has been formulated to support normal kidney function in dogs and cats, and its effectiveness in slowing down the progression of CKD has been demonstrated in clinical trials.
Overall, Epakitin is an important supplement that can help pets suffering from kidney disease live a healthier, happier life.
2. Why Epakitin is Considered Safe for Animals in Early Kidney Failure Stages
Epakitin is considered safe for animals in the early stages of kidney failure because it doesn't contain any harmful ingredients. The supplement is made from chitosan and calcium carbonate, which are natural compounds extracted from shrimp and crab shells.
Epakitin works by reducing the amount of phosphorus in the animal's bloodstream, which helps to slow down the progression of chronic kidney disease. When used in the early stages of kidney failure, Epakitin may help to support normal kidney function and prevent further damage to the kidneys.
Additionally, there have been no reported side effects associated with using Epakitin, making it a safe option for pet owners concerned about their animal's health.
3. Reported Side Effects of Calcium Carbonate Products in Humans
While Epakitin is considered to be safe for animals in early stages of kidney failure, it's important to note the potential side effects of calcium carbonate products in humans.
Nausea and constipation are commonly reported side effects when using such products. Additionally, aluminum-containing phosphate binders can cause gastrointestinal side effects such as constipation and upset stomach.
It's crucial to keep an eye on any medication side effects and report them to a veterinarian or pharmacist promptly. As with any medication, it's vital to follow the recommended dosage and check the label of the product carefully.
Specific concerns such as calcium levels and constipation may arise when using Epakitin, but fortunately, there are no known side effects of this product for pets.
4. Overdosing on Epakitin: The Best Course of Action
When it comes to Epakitin, overdosing is rare but still a concern. If your pet accidentally ingests too much of this medication, it is important to contact your veterinarian immediately. They will be able to determine the best course of action for your pet's specific situation.
It is also recommended to discuss the proper dosage and administration of Epakitin with your veterinarian before giving it to your pet to avoid accidental overdosing.
Remember, always follow your veterinarian's instructions and recommendations to ensure your pet's safety and well-being.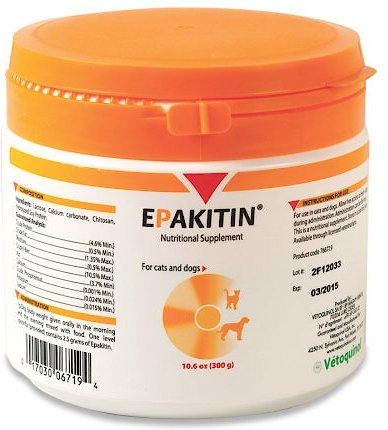 5. Epakitin and Its Effectiveness in Slowing Down the Progression of Chronic Kidney Disease (CKD)
Epakitin for dogs and cats from Vétoquinol USA, Inc. has been proven to be effective in slowing down the progression of chronic kidney disease (CKD). This nutritional supplement powder contains chitosan, a natural ingredient that helps support kidney function and reduces kidney damage. While there is no cure for CKD, it is possible to slow down the progression of the disease with therapeutic interventions such as Epakitin. This supplement may help pets suffering from early-stage kidney failure to maintain their quality of life and prolong their lifespan. It is important to note that Epakitin is not a cure for CKD and should be used under the guidance of a veterinarian. Pet owners should watch out for possible side effects and contact their veterinarian if their pets exhibit any negative reactions.
6. Calcium Levels and Constipation: A Possible Concern When Using Epakitin
While Epakitin is generally considered safe for cats and dogs with early stages of kidney disease, pet owners should be aware of potential side effects when using any calcium carbonate product. Constipation and changes in calcium levels may occur, which can lead to further complications.
However, these side effects are usually not severe and can be managed with proper dosage and monitoring. If pet owners notice any worsening or continued problem, they should contact their veterinarian for guidance.
Overall, Epakitin has been found to be effective in slowing down the progression of chronic kidney disease and providing nutritional support for pets suffering from renal failure.
7. No Known Side Effects of Epakitin: What To Do If Your Pet Exhibits Negative Reactions
Epakitin is considered safe and has no known side effects, but it is still possible for some pets to exhibit negative reactions, such as allergic reactions, lack of appetite, diarrhea, itching, or hair loss, while taking this medication.
In such cases, it is essential to contact your veterinarian immediately. It is important to remember that every animal may react differently to medication, and what works for one pet may not work for another. It is always recommended to be watchful for any adverse reactions or allergies your pet may exhibit while using Epakitin.
However, it is noteworthy that Epakitin has shown to provide nutritional support to cats and dogs with chronic renal disease and helps reduce kidney damage due to renal disease. Therefore, it is crucial for pet owners to consult with their veterinarians before providing this medication to their pets and monitor their pets' reactions closely.
8. Azotemia: Symptoms and Benefits of Epakitin for Pets Suffering from Kidney Disease
Azotemia is a condition in which there is an excess of nitrogenous waste products, such as urea and creatinine, in the blood due to reduced kidney function. Pets with chronic kidney disease often suffer from azotemia and may exhibit symptoms such as lethargy, loss of appetite, and vomiting.
Epakitin is a nutritional supplement that can benefit pets with kidney disease by supporting kidney function and alleviating the symptoms of azotemia. Unlike calcium carbonate products, Epakitin has no reported side effects and can be used long-term to slow down the progression of chronic kidney disease.
Pet owners should monitor their pets for any negative reactions to the supplement and seek veterinary care if necessary.